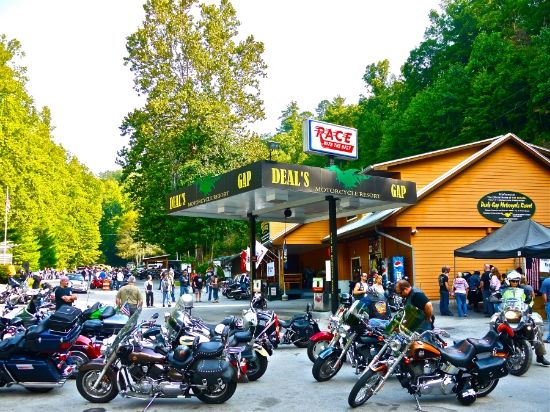 1400+ miles in 2 days of riding.
Roads: Interstate to escape the DC area, then VA Hwy 55 to Petersburg, WV, then US 220 S all the way to Covington, VA (watch your speed in Monterey and Warm Springs). Tried to find a way South from Covington to reach a small town called Union so I could jump on 219, but lost confidence in my map as the road turned to gravel over an apparently aimless mountain backroad... Defeated, I turned back to I-64 W rode it to WV Hwy 20 S, where you can find food, fuel and a glimpse at what it would be like to live locally from a place even Google Maps won't show:
WV Hwy 20 S through Hinton and all the way S down to I-77 to make the Interstate near dusk. I-77 to I-81 S for a long straight run to Knoxville. The interstate was wet, but the cloud lighting stayed to the North. Made the hotel around 11:30 pm, stretched my legs walking for beer before crashing soundly in fresh sheets. Starbucks over a map is a great way to start the day and after finding my way through Marysville, I was off to start the The Tail of the Dragon.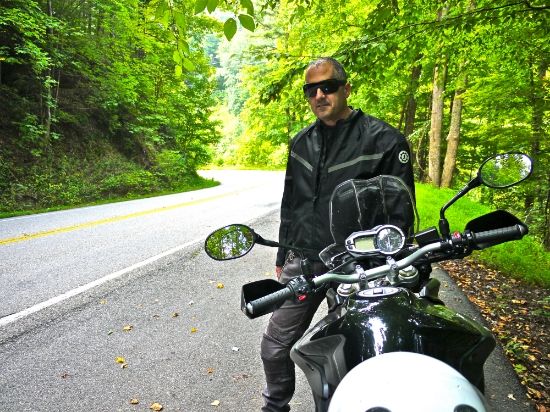 Started the fun by passing a guy as he was turning on his Go-Pro; but the highlight was playing tag with a skillful GS rider. The weekend road was busy with an organized event occurring at the Deal's Gap motorcycle resort so a second run seemed unrewarding. Checking it off the list, I started making my way back East. A series of uninspired choices gradually lead me to the La Brea Tar Pits of motorcyclists, US Hwy 441 N through the Smoky Mountains through Gatlinburg, TN. My punishment wasn't over as I retraced my steps back to I-81 N where I exited North of Bristol to make a run on VA 42 which parallels I-81. Such a sweet choice! I took it all the way to VA100 N to US 219 N before going East on WV 39 through Warm Springs. Night had fallen; so the plan was to cut the mountain backroad driving short by short cutting onto Hwy 39 E to Interstate 81. A mentally taxing night run on a foggy and wet 39 through the George Washington National Forrest was compounded by running parallel to I-81 on the very troublingly deer infested Hwy 42 connecting Goshen and Buffalo Gap, VA. From there finding I-81 was easy, but the final 3 hours of Interstate home felt painfully slow no matter how fast my speed.