With November starting it is only a matter of time before all the ice treating gravel and constantly cold temps turn long trips to the mountains into short trips in town. So with friends in Atlanta (One having a gig with his new band on Friday night) it was time to head South. Out the door by 3:00am to beat the gridlock that lurks between DC and Richmond, I made it to Ashland, VA, at about 5:00, where shaking after 2 hours in low-40s cold, I stopped for gas and to sit with a cup of coffee, before throwing on my Rev'it rain-suit as a windbreaker.
The rest of the drive is just Interstate drone down I-95 & 85. However, every run to Atlanta always ends the same... Everyone's pent-up desire to drive fast in SC's long three-lanes of radar enforced 60mph is unleashed in GA's two-lanes of 70mph. So I stop, gas-up, rest-up, caffeine-up, and take off the neon yellow rain-suit at the QuickTrip off exit 21 in SC, before committing myself to keeping up with whatever the fast-lane is doing from there until everyone's anxiety magically dissipates where I-985 merges with I-85 and you can resume a normal pace.
Time table kept, I was now able to enjoy the endless conveyor-belt of beers that starts with the first congratulatory handshake.
We closed-up that bar with the band and went looking for more, but at 2:00am the pack got a little thinner and we ended up at the Porter Beer Bar in Little Five Points where I was able congratulate myself on a successful 24-hours of consciousness.
The next day was slower and but got up to speed taking out an '82 911 Targa that is now calling my friend's garage, home. Another late night meant an even slower start to Sunday. But once again I-85 demanded my attention. Northward traffic out of Atlanta isn't as aggressive so you can make good time without having to choose between a slow moving semi in-front or a tailgating SUV behind.
With a hotel reservation in Princeton, WV, the plan was to take advantage of the weather one last time to get up in the mountains.
So the path was I-85 to US221, then 221 North all the way past Boone, NC, where I could catch Hwy 16 North to 460 and run right into Princeton. US221 between I-85 and Marion, NC, is an easy low-hills run where the grade doesn't pick up until the Pisgah National Forest.
Before I could get to the good stuff, I stopped to photograph a water powered gristmill at the intersection of US221 and US74. I let the bike tip over as I went to lean it down on a kickstand that was still up... Not having my A-Game on, I unsuccessfully resisted the fall until doing a slow roll away at the end. I thought only my pride was injured but even that little jolt cost me an inch of my clutch lever. Thankfully it didn't snap-off at the base (because I would be still in NC waiting on parts from Triumph). So after man-ing back up to get it back on two wheels, I poured some coffee in me for strength with pulling my head out of my ass.
Getting through Boone was slow, and made slower by noticing a low sun. The signs for 221 were good up until the point where I missed one. Unsure of myself on what became 421, I felt lucky to find where Hwy 16 intersected it. Dusk slowly greeted me as I pushed hard on an unintentional, but fun section of 16. Unfortunately it was dark by the time I reconnected back with Hwy 221.
That meant what would have been a much sought after challenge would now just be a challenging challenge in the dark and cold mountains where making the pace meant driving to the edge of the high-beams while staying balanced in mountain twists by jockeying the seat and the high-beam toggle-switch. This played on and on, until I hit Independence, VA, where I had to abandon my Plan-B of taking an interesting looking US21 North to Wytheville to just take the commercialized 221 all the way to I-77 at Woodlawn... Which was really the only choice because I was exhausted and hanging on for an hour at 75mph ended up be all I had left in me.
Monday morning was low-40s cold. A cold made worse by thick fog on 460 out of Princeton along the Bluestone River. Turning onto VA42 at Newport, VA, you pass a small gas station and couple of businesses, which is still a perfect place to thaw out and get ready for running 42.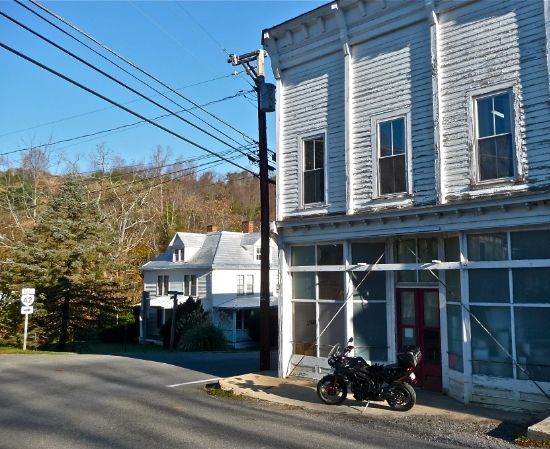 And the run is sweet all the way to New Castle, VA
(in the valley below)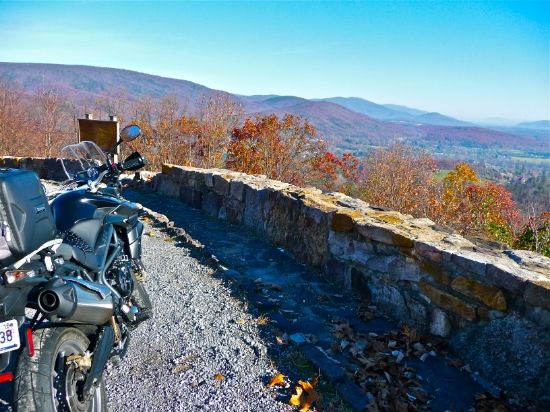 Hwy 311 out of New Castle is just as good and even though the areas has already had snow there wasn't too much gravel up on the mountain switch-backs.
I've taken 311 all the way to I-64, but this go-around I picked up Hwy 18 in Paint Bank for a quick valley run to Covington, VA, where I was going to stop for gas but ended up on the truck route through town: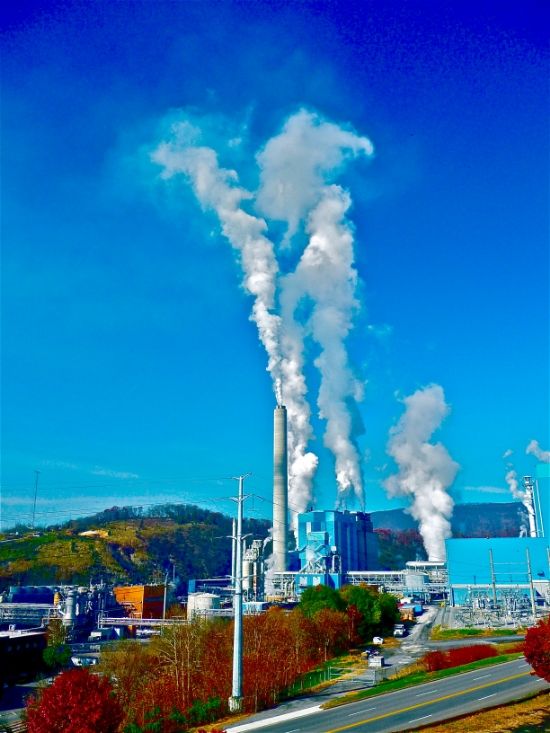 Pushing on I was rewarded with a empty set of mountain switch-backs as US220 gets North of Covington and into Hot Springs. Hot Springs & Warm Springs, VA, is an old-money playground so two-wheeled hooliganism should be restrained on that stretch of 220. Not there there was any fight left in me. I needed gas and a warm up, so the quiet Sunoco station made for a perfect place to do both with a hotel waffle I made 'to-go' and a still warm thermos of dark coffee from my morning stop at Starbucks.
I have yet to have a bad run on 220; so I ran it up past Moorefield (where I would usually cut over towards Front Royal) and all the way to US50, where I went East to Romney, VA. That section of 220 (and 50) is boring and congested, but from there you can catch WV Hwy 29 North to Hwy 9 East into Berkley Springs, which has not failed to be lightly traveled fun. Skipping the temptation for a good sandwich in Berkley Springs, I pressed on to Hancock, MD for gas and the last of my coffee before doing the two hour sprint on I-70 to Baltimore.
At 1575 miles, I have to say it wasn't an easy run, but if another cold winter means the bike doesn't get out of Maryland again until the Spring, I can still be content knowing I pushed my limits this weekend.